Been plugging away at the engine conversion when time permits which isn't much with work and children to look after etc.
Most of the time was spent stripping the donor car and the mirage's old drivetrain so far.
The actual engine install hasn't taken much time at all in comparison.
The FTO front subframe bolted straight in as i had hoped and the steering rack seems to have stayed in the factory position.
This allowed the installation of the north south beam at the rear and i carefully measured up the FTO front position from the centerline and held it with a tekscrew on the Mirage until i install crush tubes and anchor nuts on the lower radiator support panel.
Mocked up the gearbox and worked out the amount of metal required to remove to allow clearance for the gearbox to the passengers chassis rail.
After cutting out the chassis rail i could then mock up the gearbox and make up a mount. Figured it was a good idea to mount the box to the existing engine mount on the chassis rail. Means it can easily go back to 1600 at a later date if we wish.
Cut the original FTO mount off the gearbox plate and just joined the 2 together with 50x25 box section.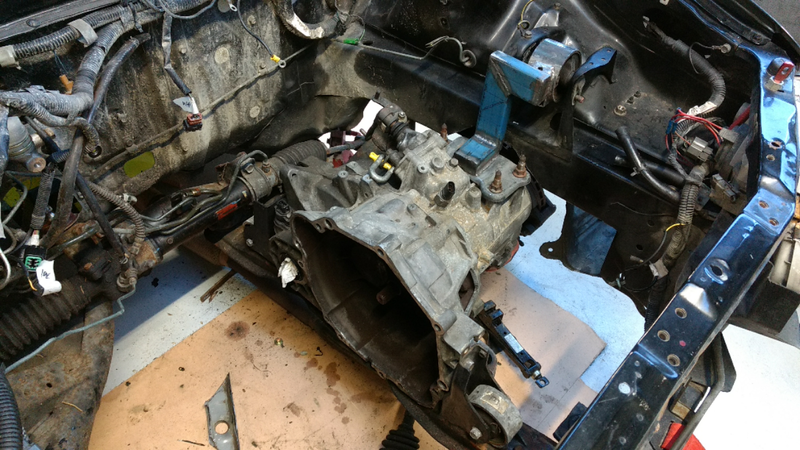 Next up was attaching the box to the engine and lifting it into the engine bay. Unlike a 4 cylinder the v6 is narrower so is quite easy to lift in from the top without hitting the chassis rails for anything.
Fitted the new gearbox mount and lined up the north south beam. Then stuck a spirit level on the intake manifold to get the motor fairly level and made up the engine mount on drivers side.
I ended up using some spare gearbox mounts by cutting them down and shaping them to fit the chassis rail and inner guard.
Tack welded them on for now until engine is removed again for full welding.
Engine in the hole. Managed to get the FTO radiator to fit the Mirage with only a few tweaks to the mounts.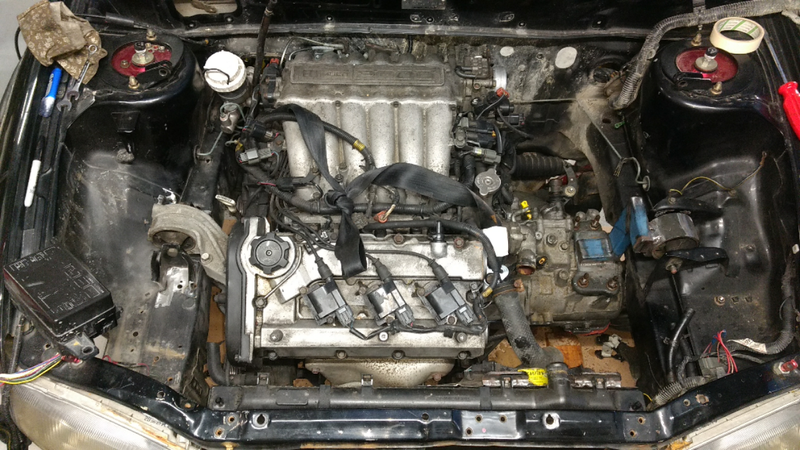 The main fan was never going to fit as the engine would hit it however the aircon fan is thinner. Cut off the fans mounts and rewelded them on to line up with the radiator lugs and it now fits nicely.
Next up is to remove the engine and box.
Will weld on the drivers mount fully, box in the chassis rail i cut up and sort out the front mounting of the north south beam.
Can then try sort out the brake booster and mastercyinder which needs relocating out of the way of the engine. While the engine was in i made up a little jig to simulate where the engine sits so can hopefully make it all clear without another trial fit.